SportCat 22 was introduced 1990 and came to replace the extremely popular T20 as the performance boat if you wanted to be fastest on the sea. In 1989, the general opinion was that catamarans were fast on flat water, but in rough sea, they were inferior to the monohulls. However,
Egil Ranvig, the designer of the classic Hydrolift boats, had started to notice some interesting things. At the time, he was racing actively with the R-20 in the often brutal sea conditions of Norway. I remember he once told me about a race (Tvedestrand) where an odd catamaran suddenly triumphed and won in superior style. The strange thing was that the race was run mostly in 6 meter waves...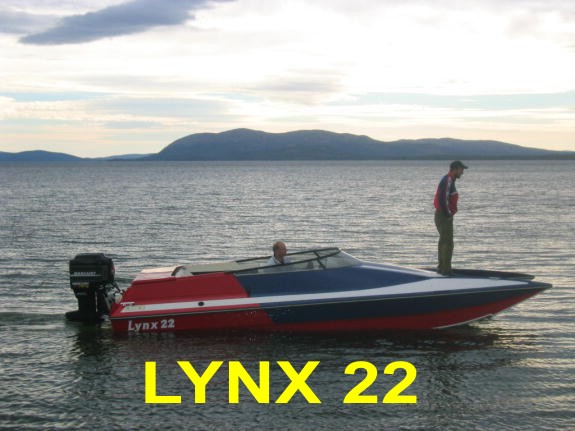 The boat he was talking about was the Lynx catamaran, designed by famous designer, Chris Hodges. I don't know the exact story behind it, but eventually, the Lynx ended up in possession of Hydro Design. the company behind the Hydrolift boats.
Egil Ranvig, who had an eye for beautiful lines and sleek aerodynamic shapes, quickly discarded the "not so very good looking" deck of the Lynx. He designed a new deck with much better aerodynamics and borrowed the cockpit from the T-20. There may also have been some minor hull changes along the way.
The result was named Hydrolift Sportcat 22 and it debuted in 1989 both as a race boat and a 5-seat offshore Sports boat.

A catamaran sports boat was something new. Not many people new what it was like riding a catamaran and the Sportcat quickly became the name of the game in Norway. The critics were quickly silenced by the enormous success the boat had on the races.

At the time, the T-20 was known as the fastest pleasure boat on the water but it took a skilful driver to master this little monster at high speed. The T-20 quickly lost its appeal when the Sportcats started to zoom bye with their drivers happily waving with one hand on the steering wheel and a drink in the other, all while the T-20 crews were spitting blood and fighting for their lives. The catamaran was riding on air with a stability not previously known to the enthusiasts. The sea-worthiness of this design left everything in its wake at the time.
Egil Ranvig had done it again. He repeated the success of the T-20 and created a very attractive sports boat that somehow managed to win offshore races against pure racing designs.
Chris Hodges, the famous boat designer, is also listed as co-designer of Sportcat 22 (hull).
This was the beginning of the catamaran era for Hydrolift.